This post contains affiliate links, which means I may make a commission at no extra cost to if you click through and buy something.
Who doesn't get a kick out of creepy Halloween eyeball cupcakes? Did you know that it's super easy to decorate eyeball cupcakes for Halloween?
Part of the fun of decorating Halloween eyeball cupcakes is thinking up the grossest way to make eyeballs. The kids can help too. They'll squeal with delight at the thought of making scary Halloween eyeball cupcakes!
Using cupcake picks, candy melts, colored icing, hard candies and even eyeball cupcake rings, you can surprise your Halloween gang with great looking Halloween eyeball cupcakes. You decide what you want to use and how you want to do it. The best thing about it is all the ooey, gooey, creepy choices for eyeballs!
On this page, you'll find some tips & ideas, along with photos and videos…all designed to help you create your own eyeball cupcakes for Halloween and have a great time doing it.
The Halloween Eyeball Cupcakes are ideal for the kids' classroom Halloween parties and even your office Halloween luncheon. Don't forget to make some for Halloween night! Enjoy!
Photo Credit: Halloween cupcakes – Moldy Chocolate by Kristin Ausk on Flickr, Commons 2.0
Candy Eyeballs For Your Halloween Eyeball Cupcakes
Super Halloween fans love Halloween eyeball cupcakes, but if you don't have time to make your own scary eyeballs for your Halloween eyeball cupcakes ~ not to worry, you can buy some. What, what? Ewww! That sounds awful doesn't it? LOL
Just check out all these creepy Halloween eyeball cupcake decorations! These are only for the brave of heart – and lovers of candy. Every year eyeball candies get better and so, make great Halloween cupcake decorations.
These candy eyeballs from Old Time Candy are actually marshmallows filled with jelly. They will ooze that jelly onto your cupcake and your family and friends will get a kick out of them.
There are 16 individually wrapped candies in the package. The flavors include Bloodberry (strawberry), Bruiseberry (blueberry) & GoryGrape (Grape). Yikes! The marshmallows are about 1.5 inches in diameter.
Aren't these great for your Halloween eyeball cupcakes? You might want a couple or more bags; my problem is that I eat some of my cupcake decorations when I use candy.
Spooky Eyes Gluten Free Bubble Gum, 29 oz Bag in a BlackTie Box

Teens and tweens like bubble gum, so if you're making Halloween eyeball cupcakes for older kids, try these eyeball bubble gum.
They are gluten free, peanut free and fat free so that's a plus if you have allergy concerns. The box comes in a cute black tie gift box from the company.
These would look so good on top of your Halloween eyeball cupcakes. Be sure to let them know these are bubble gum eyeballs.
Don't miss the selection of horrifyingly fun eyeball candy from Amazon, too. There's always a great selection of Halloween cupcake decorations on Amazon and obviously eyeballs are a hilarious part of that selection.
These are the best ones I saw. Aren't they adorable?
Wilton Icing Candy Eyeballs, Package of 56

Wilton Halloween Spooky Candy Eyeballs

Wilton Red Vein Icing Candy Spooky Eyeballs

Wilton Candy Eyeballs, 56 count

Halloween Eyeball Edible Frosting Rounds
Eyes Emoji Edible Frosting Rounds

I had never seen these cute, cute, CUTE edible frosting rounds from Zazzle before and I was blown away with what a good idea for fast and easy cupcake decorating ideas. Here are some really eye-opening eyeball edible frosting rounds from Zazzle to check out. These amazing cupcake decorations are made of a sugar and cornstarch base, and then printed with food-grade inks to reproduce your design with lots of great detail.
So if you need something quick and easy for making lots and lots of Halloween eyeball cupcakes, these are worth trying out.
You can just peel and press these frosting rounds onto nearly any flat, soft-frosted dessert. For best results, use them on fresh buttercream frosting, cream cheese frosting, ganache, royal icing and similar toppings.
Blue and Purple Dragons Eye Edible Frosting Rounds

Amber Dragons Eye Edible Frosting Rounds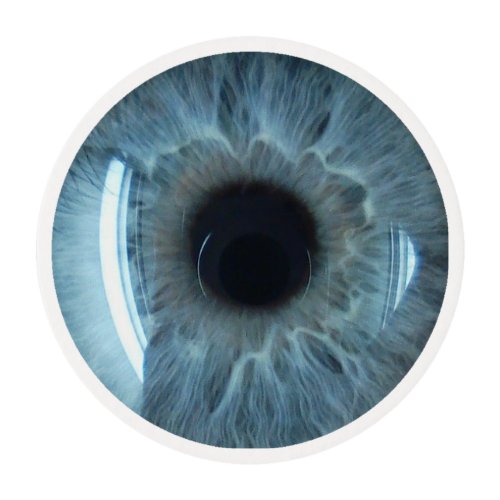 Blue Eye eyeball edible frosting rounds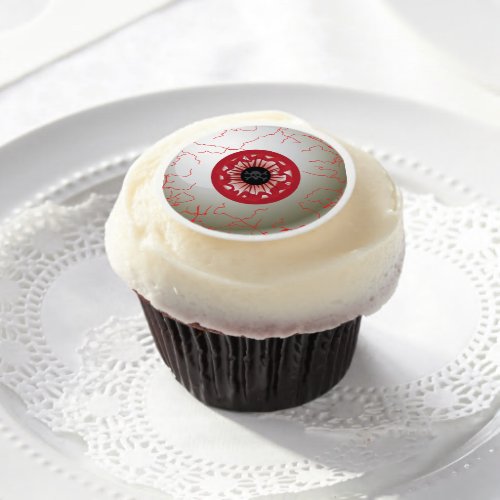 Halloween Eyeball Edible Frosting Sheets (Red) Edible Frosting Rounds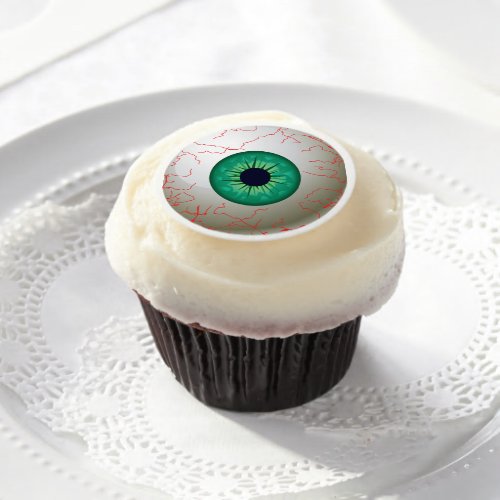 Halloween Eyeball Edible Frosting Sheets (Green) Edible Frosting Rounds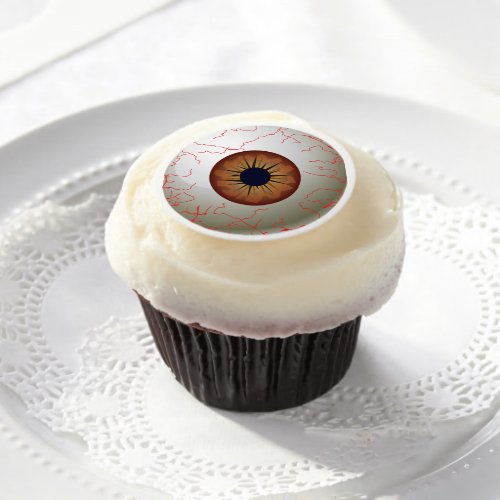 Halloween Eyeball Edible Frosting Sheets (Brown) Edible Frosting Rounds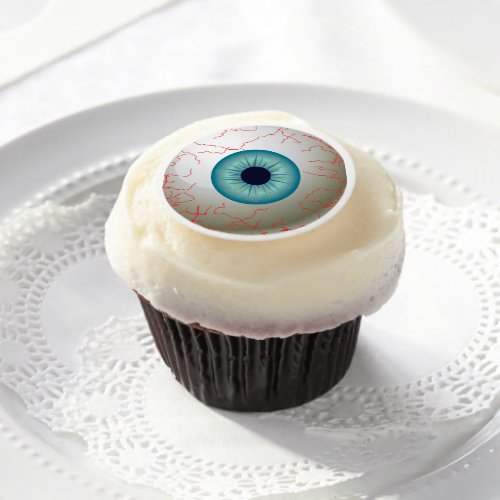 Halloween Eyeball Edible Frosting Sheets (Blue) Edible Frosting Rounds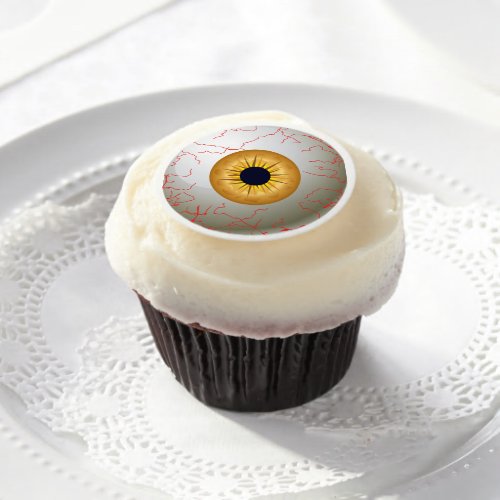 Halloween Eyeball Edible Frosting Sheets (Hazel) Edible Frosting Rounds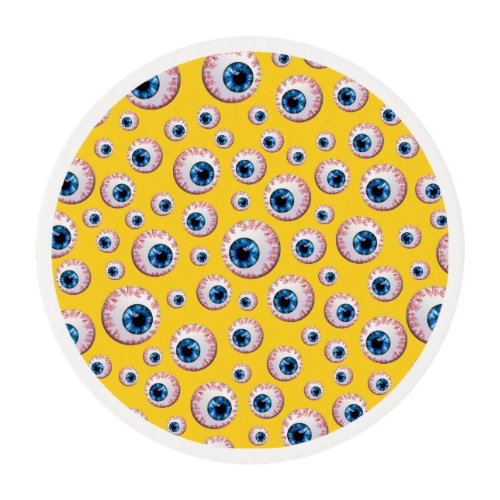 Yellow eyeball pattern edible frosting rounds

How To Decorate Eyeball Cupcakes
This is an excellent tutorial video for tips on decorating some creepy, scary bloodshot eyeball cupcakes. Yikes! It looks like fun, too! This is basically all there is too it. Would you believe it's this easy? I Love it!
Need gummy eyeballs to make some Halloween eyeball cupcakes?
Here's a couple of gummy eyeball items you might want to try if you want to make eyeball cupcakes like the ones in the video above, but without the chocolate chip.
Personally, I think these look better…plus, you don't have to assemble them.
These gummy eyeballs measure about 3/4 inch and there are about 100 pieces in this 1 pound bag.
Wilton Cupcake Decorating Sets
If you'll be doing more decorating on these or other cupcakes, you ought to treat yourself to a basic cupcake decorating set like this one. They're great for those of us starting out with cupcake decorating.
Wilton Cupcake Decorating Sets are a great deal because you get everything you need for getting started in one handy kit.
Once you buy a kit, you'll be able to re-use it time and time again to decorate cakes and cupcakes for any occasion. Then, as you go along, you can still grow your cupcake decorating tools.
Creepy, Bloody Eyeball Cupcakes
I hope you've enjoyed checking out these cupcake decorating ideas for Halloween eyeball cupcakes. They're fun and they're easy and your family and friends will love them.
Actually, these cupcakes would also be great for a Zombie Apocalypse party, wouldn't they? How about you? Have fun decorating your cupcakes and have a Happy Halloween!
This post is part of the Facebook Pinterest Party group Halloween Blog Hop. The other posts in the hop are listed below. Please stop by and visit them for some wonderful Halloween recipes, costume ideas and more!
September
1 Paula Atwell Gothic Lolita Dresses & Accessories
2 Kristen Carrasco Pumpkin Spice Truffles (naturally vegan & gluten free!)
3 Megan Burgess Chamberlin 3 Easy "Funkin" Pumpkin Makeovers
4 Corrinna Johnson Creepy Spider Ice Cream Sandwiches For Halloween
5 Sylvia Mayfield Helpful Halloween Safety Tips With A Fun Halloween Quiz To Take
6 Jamie Dick Yonash Costume Ideas for Sisters
7 Katy Mitchell Pumpkin Cheesecake
8 Kori Tomeldon Origins Of Halloween
9 Anjanette Young – Homemade Halloween Treat Bags
10 Linette Gerlach~ Pumpkin Pie Ice Cream Recipe- Dairy Free
11 Tracey Jade Boyer Graveyard Cake – The Perfect Finger Food!
12 Ashleigh Walls DIY Halloween Craft Ghost Button Decor
13 Katy Mitchell Halloween Themed Shirts
14 Paula Atwell  Harley Quinn Cosplay Costumes
15 Sylvia Mayfield  That's Us ~ You are here!
16 Corrinna Johnson Spooky & Cute Halloween Costumes Tween Girls Will Love To Wear
17 Linda Martin Halloween Origin History: Samhain & All Saint's Eve
(Visited 1,081 times, 1 visits today)