This post contains affiliate links, which means I may make a commission at no extra cost to if you click through and buy something.
Halloween Cupcake Displays
You've put in all the work to make your Halloween cupcakes the most adorable cupcakes for the party or office. Take that next step and serve your cupcakes in style on the perfect Halloween cupcake display for the job.
Create a beautiful Halloween party table with your Halloween cupcakes on one of these fun Halloween cupcake stands.
Halloween cupcake displays like the ones you'll see here are perfect for office parties, kids' parties, festivals, bazaars and family gatherings at home.
Running short on time to hunt for the perfect Halloween cupcake stand?  Kick your shoes off and relax.  I've rounded up a really cute assortment of Halloween cupcake displays to save you time.
Featured Image: Creepy Cupcakes by Kathryn Cartwright on Flickr, Creative Commons 2.0
Create Lovely Displays With Halloween Cupcake Displays
Mix and match these vibrant colored cupcake stands to create a perfectly petrifying display for your Halloween cupcakes. The cupcake stand has a glossy finish and they're made of melamine. With these cupcake stands, your cupcakes will add a pop of color to your party.
Reusable cupcake stands like these should be a staple in your party supplies and decorations stock. You can use them for birthday parties, baby showers, bridal showers and more.
They're 5.5″ in diameter & height. The cupcake stands are by Glitterville and brought to you by Beau Coup.
Cupcake Stand – Orange

Cupcake Stand – Lime Green

Orange & Black Polka Dot Halloween Cupcake Stand
Orange & Black Polka Dot Halloween Cupcake Stand
Treat your Halloween cupcakes to a really fun display with a Halloween cupcake stand like this one. It's cute and holds up to 24 cupcakes.
If you need a way to display lots of cupcakes for a party or other gathering, a tiered cupcake stand is the way to go.
This one measures 13.5″ high x 11.5″ in diameter and is sure to make your Halloween cupcake display eye-catching.
&
&
Halloween Cupcake Displays For Baby Showers?
Having a baby shower around Halloween?  What could be cuter than showcasing your cupcakes on these cupcake stands?
Talk about a good deal ~ these cupcake stands come with a set of 13 cupcake wrappers! These cuties are printed on a premium-grade satin paper with a photo-like shine. The cupcake stands are 12 inches high. All you need to do is bake up some yummy Halloween cupcakes and add a bit of frosting. Then you're ready to create a perfectly coordinated Halloween cupcake centerpiece!
Big Dots Of Happiness even includes the instructions for assembling the stand!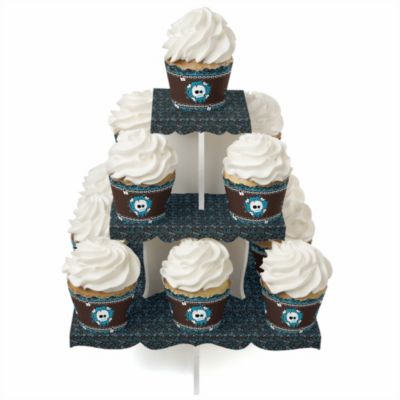 Skullitude™ – Boy Skull – Birthday Party Cupcake Stand and 13 Cupcake Wrappers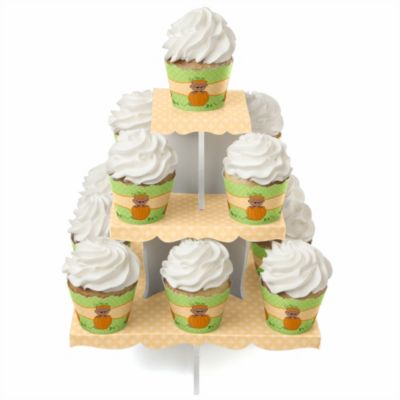 Little Pumpkin African American – Baby Shower Cupcake Stand; Cupcake Wrappers

Great Assortment Of Halloween Cupcake Displays
The cupcake stands available on Amazon are fabulous and I know you'll find the perfect Halloween cupcake display.
Amazon is one of my favorite places to shop because they have such a huge assortment of products. Being a Prime Member, I also love that I get all my orders shipped free two-day shipping. Try Amazon Prime 30-Day Free Trial
Your Halloween cupcakes would look fantastic on one or more of these cupcake stands.
Wilton Haunted House Cupcake Display

Wilton Mummy Cupcake or Treat Stand

Haunted House Cupcake/Donut Holder

Wilton Pumpkin Cupcake or Treat Stand

Halloween Cupcake Stand, Eyeballs

Paper Cupcake Stand, Haunted Halloween

&
Do you just love all these Halloween cupcake stands? I don't know which one I would pick myself! Have a wonderful party!


(Visited 311 times, 1 visits today)